"I know self-defense and I will shove my Louboutins so far up your ass." - Farah Harrington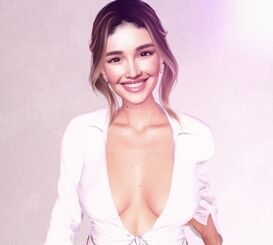 Farah Leigh Harrington is the COO of Vanguard genetics, a founding member of the Five, and the famous telepath Allura.
Biography
Farah Leigh Harrington was born on October 6, 1994. The New York City native, born into a prestigious family from Upper East Side, was breed for success, her father, Thomas Harrington, an established hedge fund analyst on Wall Street and her mother, Lilliane, a life coach to the rich and famous.
Nannies, Au Pairs, those were the norm for Farah's early years until her parents, college friends of the Russo's, asked the Russo's to investigate their daughter's abilities after she displayed mysterious symptoms of the plague that were eerily similar to their daughter Olivia's... A hospitalization for anorexia, nearly killing Farah, was accompanied with sudden chills, fever, and swollen lymph nodes that marked the start of their curiosity. In the weeks following, their precious daughter started showing off magic tricks such as reading minds of nannies and members of her family, knowing things beyond what could be guessed.
Shipped off to Baltimore, Farah spent the remainder of her childhood raised in Baltimore underneath the Russo founded company, Vanguard Genetics, alongside Olivia Mason and Atlas. The three of them were raised and trained together at Vanguard's Academy for Extraordinary Boys and Girls, destined to be a team. Farah was told consistently by Elaine and Robert Russo that it was her job to look over the two others, to do anything and everything within her power to protect them. And so she did, even when it cost her a bit of herself, no questions asked.
Farah was accepted into a handful of prestigious universities, but eventually, settled on Princeton University in 2012, choosing that offer due to two factors -- her parents had met there, and it offered her the unique opportunity to pursue the college dream with her best friend.
Personality
A whole bitchy mess. Contrary to popular belief, she does have feelings and tends to mask them with easier emotions such as anger or rage.
Powers and Abilities
Telepathy, mind witch.
Equipment
Relationships